The purpose of Women's Ministries is to help you learn and grow in your Christian faith with other women from all walks of life. There are regular Bible studies that meet at EAST, as well as occasional social events throughout the year.
No matter your age or life stage, you're welcome to join at any time during the year - we'd love to have you there.
For additional information on upcoming events visit the
Treasured Women's Ministry Facebook page.

Bible Studies
Wednesday Morning
10 AM -Noon
Prayer the Great Adventure
by Dr. David Jeremiah
Led by Tish Breland
FLC
When the disciples of Christ asked the Lord to teach them how to pray, He instead gave them a model for prayer.

This short prayer, which is known as "The Lord's Prayer," teaches us how to pray effectively. Prayer - The Great Adventure will explore the pattern of prayer Jesus gave to His disciples and examine how we can follow that pattern and put it into practice in our lives. As you study "The Lord's Prayer" in Matthew 6 and begin to implement the teaching of our Lord in your own life, you'll find that you know God better, and you will become more thankful for what He has done. You will see God's power at work in your life as you learn as never before what a remarkable God we serve.
Wednesday Evenings
6:00 - 7:00 PM
God of Creation
by Jen Wilkin
Led by Tish Breland
Room A102

June 3 - August 5
The opening lines and chapters of Genesis teach us fundamental truths about God. We watch Him bring light after darkness, order after chaos, and rest after toil—all through the power of His Word.
Over 10 sessions of verse-by-verse study, dive into the first 11 chapters of Genesis by following three critical stages of understanding: comprehension, interpretation, and application. Teaching videos are key in understanding this study. Revisit familiar stories and historical figures, challenge your basic knowledge, and discover deeper meanings in the text. As God reveals Himself through Scripture, we can only begin to understand ourselves when we first glimpse the character, attributes, and promises of our Creator.
Workbooks are available with a gift of $16
Jude: Contending for the Faith in Today's Culture
By Jackie Hill Perry
Led by: Annette McGraw
Triumph House
June 17 - July 30
While often overlooked, the Book of Jude remains as relevant today as the time it was written. God has commanded His beloved church to do the necessary work of contending for the faith in a world of unbelief, and as we do, He will keep us from falling into the same deception.
In this 7-session study from Jackie Hill Perry, dive into themes of being called, loved, and kept, and learn how to point others to Jesus in grace and truth. We serve others well when we share the whole gospel with them, not just the parts deemed attractive by our culture.
Workbooks are available with a gift of $16.00
Please look for studies in
RightNow Media

Recent Events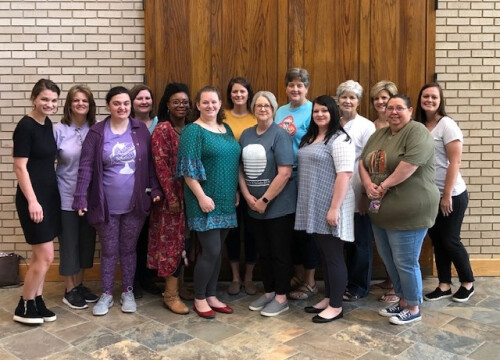 What a blessing our ladies received this weekend at the Kelly Minter Cultivate event in Alexandria. The message was that Jesus Changes Everything—Identity, Heart, Purpose, and was based on Matthew 8-9.

Saturday, January 25, 2020